UPCOMING EVENTS
Community Crossroads Rally
Wednesday September 18th
6:30 - 8:00 p.m.
At the Youth Center located at
115 W. Main St. Grayson.
Community Crossroads
Youth Center!!!
The Community Crossroads Youth Center will soon be up and running. Thanks to all the churches who have supported this ministry. A schedule of events for the youth center will soon be posted on this website.

If anyone wants to get involved in this ministry, please contact Eric Porter at 474-8111. Thanks!
EVENT RECAP
We have had an awesome summer, and now we are ready to get back into the swing of things. The mission trip tot he Christian Children's Home of Ohio was a trip that won't soon be forgotten. Over 50 young people ventured to Wooster, Ohio for a few days of service. God was truly moving as we had 8 decisions for Christ made. All the kids voted to go back next summer again. Be sure to check out the pictures from the trip!

A Change Has Been Made!
Starting in January of 2003, we will begin meeting the third Wednesday of each month!!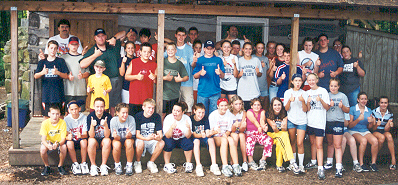 For More Pics, Click Here